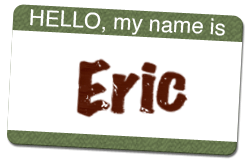 Read this to me!
HELLO,
my name is Eric!
I am grateful for the series of serendipitous events which have brought you to this page and I am genuinely pleased to meet you, albeit through this wonderful world known as the Internet.
I sincerely thank you for your interest in ProjectHola! and hope you find the following narrative an easy read…
In March of 2011, a friend mentioned he was thinking of spending the summer in San Miguel de Allende, Mexico. I thought the plan interesting and began to contemplate the possibility of also going – just for the adventure.
Two days into my mulling process, I was daydreaming of what I might do in San Miguel to enhance my experience. From out of nowhere, the idea that I could wear a name tag around town to not only make new acquaintances, but also to be a memorable character, popped into my head. While picturing myself interacting with shop owners and people on the street, all of whom were very happy to use my name and engage in conversation, the idea expanded into a question: What if you could get the entire town to wear name tags?
My smile widened as I suddenly imagined everyone in San Miguel exchanging pleasantries and enjoying camaraderie owing to the simple fact that each person's name was on display. As you may have already guessed, that moment of happy musing was very quickly replaced with an even bigger question: What if everyone on the planet were to wear a name tag?
By this point I was standing at attention with eyes as large as saucers while the neurons in my brain attempted to provide possible answers. By my way of thinking, there could only be positive results. People would break the habit of ignoring one another. The name tag would be an invitation, extended to all, to be friendly, to enjoy each other's company and to embrace our obviously gregarious human nature.
Thus was born the idea of ProjectHola! Though the beginnings appear to have taken place inside my humble head, science cannot tell us the source of inspiration and I'll not take credit for the brainstorm. I am content to say that I received the suggestion and am happy to attempt its implementation.
The idea is both beautiful in its simplicity and simple in its beauty. Just wear a name tag, and go about your day. Connections and interactions will take care of themselves. The friendliness of others will surprise you.
Personally, I'll be in San Miguel de Allende as of June, spreading word of the ProjectHola! concept and hoping to find a small army of volunteers to help distribute name tags. I cannot begin to guess at the extent of participation on a global level, but I do know this: If only you and I are wearing name tags on September 3rd, the world will be a better place.
Thanks for your help!